Are you considering laser hair removal? Perhaps you're sick of shaving? Or you no longer want to have painful waxing procedures to remove unwanted hair at your bikini line? If you're searching for Irvine, laser hair removal, don't hesitate to contact Total Cosmetix. The company specializes in treatments such as laser hair removal, Botox, cosmetic surgery, micro-needling, and fillers. This article will help you to decide if laser hair removal is right for you.
What is Laser Hair Removal?
During a laser hair removal treatment, an FDA approved laser will be used to remove unwanted hair. The lasers use pulsing beams of light, which are very safe, non-invasive, and target hairs on the underarm, bikini line, and legs. If you choose laser hair removal, you may feel a slight stinging sensation, but a numbing cream can be used to minimize this and make you feel more comfortable.
Laser hair removal is suitable for both men and women who have unwanted hair on any part of their body. Its commonly used by people of all ages, skin types, and ethnicities. If your hair is grey or auburn, you may not be suitable for a laser treatment. This is because the laser uses red light to target the hair follicles, and it might not be as effective on certain colors of hair.
The Benefits of Laser Hair Removal
Laser hair removal is very effective compared to other hair removal methods. Waxing can be very painful, more expensive, and is messy and stressful. To successfully remove hair, a hot wax strip will be applied and then ripped off the skin. This is painful, especially on the bikini line. Laser hair removal, on the other hand, is pain-free and safe.
Shaving is an excellent method of hair removal; however, you have to keep shaving regularly. Shaving can also cause cuts or razor burn on your skin. Laser hair removal is useful as its long-lasting; after several treatments, the hair follicles will become damaged, and hair will stop growing, in some cases, completely. You'll then be able to enjoy smooth, natural-looking skin without the need for beauty treatments or self-grooming.
Another great benefit of using laser hair removal is that it can eliminate hair from anywhere on the body. It's commonly used on the underarm, back, face, chest, bikini area, and legs but can also be used in other areas.
Laser Hair Removal for Medical Conditions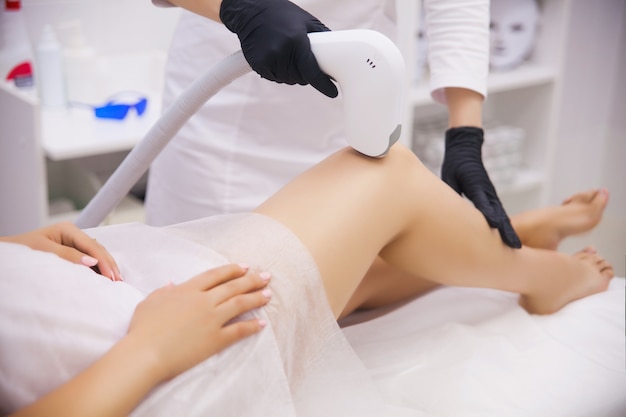 If you suffer from medical conditions such as polycystic ovary syndrome (PCOS) or Hirsutism, which cause excess hair to grow on the body, you may want to use laser hair removal. This type of treatment has been life-changing for some people.
You'll need to be treated with laser hair removal between three to six times if you want to stop hair from growing back completely. Treatment times will vary between just a few minutes and hours, depending on the area of your body you want to treat. It is a very fast and effective method of hair removal.